The activities conducted at the Beaverlodge properties are overseen by the Joint Regulatory Group (JRG) which consists of Saskatchewan Ministry of Environment (SMOE), Canadian Nuclear Safety Commission (CNSC), Environment and Climate Change Canada, and the Department of Fisheries and Oceans.
More formally, the Beaverlodge properties are regulated by the CNSC in accordance with the federal Nuclear Safety and Control Act and regulations as well as SMOE in accordance with provincial laws and regulations for the protection of people and the environment. Both regulators conduct regular site inspections and audits to verify that people and the environment are protected.
The CNSC renewed the licence for the Beaverlodge Decommissioned Properties for a 10-year term in 2013. The stated goal of Cameco at relicensing in 2013 was to have all of the Beaverlodge properties accepted into the provincial Institutional Control Program by the end of the licence period in 2023.
Before decommissioned properties can be accepted into the provincial Institutional Control Program, they must be released from federal CNSC licences. Criteria to determine the eligibility for release from CNSC licensing include the overarching Performance Objectives of "safe, secure, and stable/improving".
Safe – The site is safe for unrestricted public access. This objective is to ensure that the long term safety is maintained.
Secure – There must be confidence that long-term risks to public health and safety have been assessed by qualified person and are acceptable.
Stable/Improving – Environmental conditions (e.g., water quality) on and downstream of the decommissioned properties are stable and continue to naturally recover as predicted.
To determine if a site is meeting the performance objectives, site specific performance indicators were established (Figure below). The applicable indicators vary depending on the nature of the property, but generally include:
ensuring that risks associated with residual gamma radiation and crown pillars are acceptable;
mine openings to surface are closed and secure;
boreholes (if present) are plugged; and
historical mining debris has been removed.
The stable/improving objective is also related to these performance indicators, but is more relevant to monitoring water quality. In order to verify that conditions on and downstream of the properties are stable/improving, Cameco has continued to monitor the progress of natural recovery and the expected localized improvements from the additional remedial measures implemented at the properties. Meeting these objectives will ensure human health and ecological risk are managed to acceptable levels to allow for a release from licensing.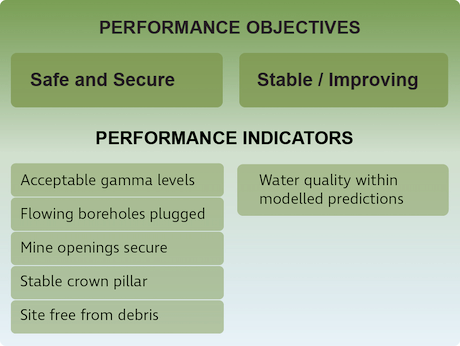 20 properties were released from CNSC licensing in 2019, with 19 properties transferred to the IC Program and 1 property free-released. In 2022, an additional 18 properties were released from CNSC licensing and are expected to be transferred to the IC Program by the end of 2022.