Beaverlodge History
Uranium was discovered in the Beaverlodge area in 1934. From 1952 to 1982, Eldorado Resources, a federal Crown corporation, mined and milled the resource.
A decommissioning plan was approved by regulatory agencies and carried out from 1982 to 1985, making Beaverlodge the first Canadian uranium mining operation to be formally decommissioned.
As a result of historic operations and the accepted environmental practices of the time, the properties have legacy impacts. Recovery has been monitored since that time.
In 1988 Cameco was appointed to manage the properties, while ownership remained with the federal government through Canada Eldor Inc. As property manager, Cameco is contracted by Canada Eldor to monitor and maintain the Beaverlodge properties to safeguard the local people and environment in the area.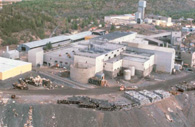 Cameco has the expertise and resources to effectively manage and maintain these properties while preparing them for transfer into the Saskatchewan government's institutional control program for continued long term monitoring.
The goal is to take the necessary steps to show that conditions on the properties are stable and that residual risks have been mitigated to an acceptable level, thus making the properties eligible for transfer to the province of Saskatchewan. See the management plan for more information.